Research & Reviews: Journal of Space Science & Technology (RRJoSST) 
ISSN (Online): 2321–2837
ISSN (Print): 2321–6506
(Editor-in-Chief)
Professor Hardev Singh Virk
Professor of Eminence, Punjabi University, Patiala
Email- [email protected]
Click here for complete Editorial Board
Research & Reviews: Journal of Space Science & Technology
 (RRJoSST) is focused towards the publication of current research work carried out under Space Science and Technology. This journal covers all major fields of applications in Space Science and Technology.
Journal DOI No: 10.37591/RRJoSST
Indexing: The Journal is indexed in DRJI, Citefactor, Journal TOC, Google Scholar
Focus and Scope Covers
Study of Celestial Bodies in our Solar System
Gravitational Science and Theories
Earth and Magnetism
Satellite Communication, Space Environment, Radiation and Environmental Effects
Satellite Remote Sensing and its Applications
Satellite Tether Design and Space Physics
Space Astronomy, Experiment and its Applications
Space Robotics, Assembly, Operations and Challenges
Material Engineering and Space Materials
Space Environment, Weather Forecasting and Information Systems
Spatial Research, Analysis and Applications
Radio, Radar and Satellite Navigation System
Spaceflights, Rockets, Launch Vehicles and Propulsions
Atmospheric Science, Effects and Applications
Meteorology and Climate Study
Astrophysical Cosmology and Astrobiology
Nuclear and High Energy Astrophysics
Space Technology and Space Exploration
Submission of Paper:
All contributions to the journal are rigorously refereed and are selected on the basis of quality and originality of the work. The journal publishes the most significant new research papers or any other original contribution in the form of reviews and reports on new concepts in all areas pertaining to its scope and research being done in the world, thus ensuring its scientific priority and significance. Manuscripts are invited from academicians, students, research scholars and faculties for publication consideration.
Papers are accepted for editorial consideration through email [email protected]
Plagiarism: All the articles will be check through Plagiarism Software before publication.  
Abbreviation: (RRJoSST) 
Frequency: Three issues per year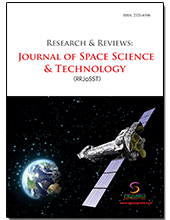 Publisher: STM Journals, an imprint of CELNET (Consortium e-Learning Network Pvt. Ltd.)
Address: A-118, 1st Floor, Sector-63, Noida, Uttar Pradesh-201301, India
Phone no.: 0120-478-1215/ Email:  [email protected]
Announcements
No announcements have been published.
Vol 12, No 1 (2023)

Open Access

Subscription or Fee Access
Table of Contents
Articles
| | | |
| --- | --- | --- |
| | Md Musa Haque, Chandan Sheikder, Aman Ullah Bin Siddique | 1-8 |
| | | |
| --- | --- | --- |
| | Suman Sinha, Sarada Modak | 21-32 |
| | | |
| --- | --- | --- |
| | Sunil Dhebe, Omkar Kadam, Akash Shinde | 33-39 |
| | | |
| --- | --- | --- |
| | Bitan Duari, Debojyoti Roy, Biswajit Panda, Susmita Das, Sumanta Dey, Pijush Dutta | 40-46 |