Research & Reviews: Journal of Space Science & Technology (RRJoSST) is focused towards the publication of current research work carried out under Space Science and Technology. This journal covers all major fields of applications in Space Science and Technology.
ISSN (Online): 2321–2837
ISSN (Print): 2321–6506
Journal DOI no.: 10.37591/RRJoSST
Indexed in: DRJI, Citefactor, Journal TOC, Google Scholar
Focus and Scope Covers
Astronomy, Astrophysics & Cosmology
Extraterrestrial Physics & Space Sciences
Planetary Sciences & Astrobiology
Space Exploration & Astronautics
Popular Astronomy
All contributions to the journal are rigorously refereed and are selected on the basis of quality and originality of the work. The journal publishes the most significant new research papers or any other original contribution in the form of reviews and reports on new concepts in all areas pertaining to its scope and research being done in the world, thus ensuring its scientific priority and significance.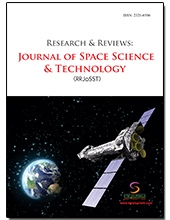 Publisher: STM Journals, an imprint of CELNET (Consortium e-Learning Network Pvt. Ltd.)
Address: A-118, 1st Floor, Sector-63, Noida, Uttar Pradesh-201301, India
Phone no.: 0120-478-1200/ Email: medical@RRJoSSs.com
Announcements
No announcements have been published.
Vol 9, No 1 (2020)

Open Access

Subscription or Fee Access
Table of Contents
Articles
| | | |
| --- | --- | --- |
| | Sriram B, Hariharan S | 1-7 |
| | | |
| --- | --- | --- |
| | Chaitang Priyang Shah, Yash Rajesh Yadav, Dhruv Ashish Shah, Jinisha Uday Mehta | 8-13 |
| | | |
| --- | --- | --- |
| | Michael Shoikhedbrod | 23-31 |